Carrying Capacity Network
---
URGENT ACTION ALERT

Border Outrage Spreading across USA--Help stop it via Double Match Offer
According to a recent report by The Washington Post, ICE removed fewer than 3,000 criminal illegal aliens in April 2021. This is the lowest monthly enforcement number since the department began keeping records 200,000 illegals crossed the Border in March alone and these illegals come from over 70 countries round the world. And worse, thousands of Migrants, Including these criminals and the Covid infected are being BUSED and FLOWN all over the USA DAILY at Taxpayer expense, as this CIS report indicates:

A Vast Unseen Conveyor Belt from Border to Interior America
<![if !supportLineBreakNewLine]>
<![endif]>
<![if !vml]>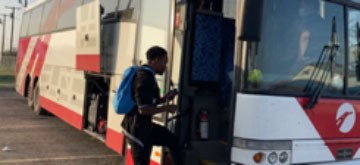 <![endif]>

Photo by Todd Bensman.

The buses rolling in a steady daily succession out of Del Rio — one charter a day, seven days a week, and before that weeks of filling Greyhound buses — represent a microcosm of a much broader aspect of the unfolding mass-migration crisis at the southern border that has attracted limited media coverage and occurs largely outside public view. Tens of thousands of immigrants caught illegally crossing the border and then released under the new leniency policy of President Joe Biden are now dispersing to four corners of the United States on buses, with some of the more moneyed ones taking passenger jets.

As best as the Center for Immigration Studies can determine from interviews and scattered media reporting, the buses are leaving regularly from Del Rio, the Texas Rio Grande Valley communities, and Laredo, but the busing also appears to be going on in Arizona, as well as in California.

Where are the buses going? They often drop their Haitian, Venezuelan, and Cuban passengers in Florida and New Jersey. Those from Nicaragua and other Central American nations have been delivered to Tennessee, Massachusetts, Indiana, Michigan, North Carolina, Georgia, Kentucky, and to large cities in Texas such as Dallas and Houston. cis.org

And you American Taxpayers are paying for this outrage in addition to $300 Billion / year NET for Legal Immigration alone per Congressional District (see CCN study) .

And yet a number of legislators are pushing SEVERAL Amnesty bills....see CNN's recent Alert

All of the prospective beneficiaries of these bills would become de facto legal immigrants!

Among those sponsoring one or more of these Amnesty bills are Reps. Joaquin Castro,(TX-20th) Ted Lieu,(CA-33rd) Senator Alex Padilla,(CA) Senator Elizabeth Warren, (MA) Additional Senator Richard Blumenthal,(CT) Reps. Raul Ruiz,(CA-36th) Pramila Jayapal,(WA-7th) Ruben Gallego,(AZ-7th) Juan Vargas,(CA-51st) Barbara Lee,(CA-13th) James P. McGovern,(MA-2nd) Adriano Espaillat,(NY-13th) Tony Cárdenas,(CA-29th) Senator Cory A. Booker,(NJ) Reps Grace Napolitano,(CA-32nd) Raúl Grijalva,(AZ-3rd) Nikema Williams,(GA-5th) Diana DeGette, (CO-1st) Ro Khanna,(CA-17th) Sara Jacobs,(CA-53rd) Teresa Leger Fernández,(NM-3rd) and Rep. Darren Soto,(FL-9th)

The cost of these Bills to American Taxpayers could be as high as $1.3 trillion or more!

Washington, D.C. (April 5, 2021) – A new report from the Center for Immigration Studies highlights that added cost.

---
Fortunately CCN and our ASAP! Coalition allies with Activists in nearly all states! is leading the growing opposition to this outrage.

And a Generous Major Donor is going to help with a Double Match Offer"

He will match all Donations from existing Donors up to $5000.

AND will match with an additional $5000 of all Donations from New Donors.

So make a Tax Deductible Donation today and get others who have not Donated to make their First donation so CCN can make the Double match.
---
ACT NOW; Tell your representatives you Oppose all the Amnesty bills and insist they re-implement all the Trump policies re the Border and re: Legal Immigration Demand that our National Legislators enact an all-categories-included zero Net Moratorium on Legal Immigration and to stop subsidizing LEGAL immigration with the $758 Million that American Taxpayers already spend every year to subsidize it — that is $330 Billion / year * Net per Congressional District for the 1.5 Million plus immigrants admitted legally each year. (400,000/year into California alone annually) prior to the Biden Executive Orders. See CCN's study of the Net Costs of Immigration at our website carryingcapacity.org. We ask: how can the homelessness crisis be ameliorated when the USA is admitting hundreds of thousands of Illegals and Legal Immigrants each year

Important to emphasize is that CCN is a Genuine Mass Immigration REDUCTION Group, so Donations to CCN have far more impact dollar for dollar than Donations to Mass Immigration MANAGEMENT Groups who refuse to support a Zero-Net all-categories-included Moratorium on Legal or to oppose Marxism and the Marxist inspired Cancel Culture pushing for Open Borders.

Therefore, CCN invites once again all genuine REDUCTIONIST organizations to Join our Diversity Coalition for an all-categories-included Immigration MORATORIUM . . . a Coalition supported by many Immigrants from all Ethnic Groups.

Carrying Capacity Network Is Pro-Legal Immigrant, Anti-Mass-Immigration, anti-Marxist.

We have taken the lead for a decade in warning about Cultural Marxism.

See for example the superb 2010 article by Lind available via link near the top right of our home page.
Unfortunately, the two largest Immigration MANAGEMENT Groups have de facto undermined our efforts to reduce legal and illegal immigration.

One says its goal is to stop Illegal Immigration, but refuses to push hard to reduce legal immigration or to acknowledge the Magnet effect the uncapped Asylee and other Categories in Legal Immigration have on drawing in illegal immigrants, who can via that category automatically be designated Asylees and thus de facto legalized.

The other group says it is for "lower immigration levels" but that too is entirely Counterproductive because it sends the Message that Mass Immigration is OK but just at lower levels.

As we have been saying for over ten years the Only Position which generates enough Political Power to get reductions in Legal and Illegal immigration is to advocate an all-categories included Zero-Net Moratorium on Legal, finish building the Border wall and re-instituting the Remain in Mexico policy.

Indeed CCN Activists and our ASAP Coalition Allies took the lead in stopping an Open Borders bill in December, 2019.

Indeed CCN can continue to have a substantial impact on stopping or watering down the oncoming bills., and reducing the numbers of oncoming CARAVANS, (which include Migrants from over 70 countries!). We have Activists in almost all states!!

However, the pandemic/economy has greatly hurt our Donations. Our nonprofit is now running on air.

The Open Borders and Marxist/Cancel Culture Threats are Intensifying!!.
Donations are Tax-Deductible. Help CCN intensify our efforts. Please DONATE Today by Credit Card at Carrying Capacity Network, Inc. or by Check via U.S. mail to:
CCN'S MAILING ADDRESS
CCN
P.O.BOX 457
San Francisco, CA 94104

Sincerely,

Carrying Capacity Network, Inc.
CarryingCapacity.org
CarryingCapacityNetwork.blogspot.com
CarryingCapacity.wordpress.com
Carrying Capacity on ASAP-Coalition.org

Follow CARRYING CAPACITY on GAB: @CarryingCapacity & Twitter: @CCNetworkOrg
---
---