---
---
CCN's 5 Point Program
Related Links
WHAT IS CARRYING CAPACITY?
A common fallacy is to equate existing and seemingly open or "unused" spaces with the kind of resources and ecologically productive land needed to support human life under modern conditions. In fact, the criterion for determining whether a region is overpopulated is not land area, but carrying capacity.
Carrying capacity refers to the number of individuals who can be supported in a given area within natural resource limits, and without degrading the natural social, cultural and economic environment for present and future generations. The carrying capacity for any given area is not fixed. It can be altered by improved technology, but mostly it is changed for the worse by pressures which accompany a population increase. As the environment is degraded, carrying capacity actually shrinks, leaving the environment no longer able to support even the number of people who could formerly have lived in the area on a sustainable basis. No population can live beyond the environment's carrying capacity for very long.
The average American's "ecological footprint" (the demands an individual endowed with average amounts of resources, ie, land, water, food, fiber, waste assimilation and disposal, etc. puts on the environment) is about 12 acres, an area far greater than that taken up by one's residence and place of school or work and other places where he or she is.
We must think in terms of "carrying capacity" not land area. The effects of unfettered population growth drastically reduce the carrying capacity in the United States.
CARRYING CAPACITY NETWORK
Real Solutions for America's Problems
---
Welcome to the CCN Home Page! CCN is a national non-profit advocacy group working to secure the sustainable future of the United States. Here you'll find articles by some of the best contemporary thinkers in the fields of population stabilization, national revitalization, economic sustainabilty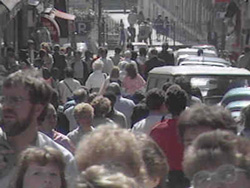 and resource conservation. Use our site to lobby your leaders in Congress, or join a live conversation in our chat room. Get the facts about the detrimental effects of mass-immigration, and why we need an immigration moratorium now more than ever. And don't forget to sign on to our National Alert subscription email service, an indispensable resource for Americans who care enough to act.
---
July 2015
Immigration Moratorium & Secure Borders Victory Initiative!
"The only thing that stands between America and oblivion is a total immigration moratorium. No other fix will work..." Ann Coulter, ˇAdios America! The Left's Plan to Turn Our Country into a Third World Hellhole, 2015

Yes, indeed, Mass Legal (appx. 1,500,000 per year) and Illegal Immigration are increasingly threatening Americans Safety, Health, Budgets, Jobs, Wages and Infrastructure, as CCN has documented for many Years.[Read More]
Immigration Dims California's Power, by Robin Lazaro

Visit other important population stabilization sites.

---

Gaylord Nelson, CCN Board
Member, Remembered
(July 6, 2005)

Carrying Capacity Network has lost a long-time friend and advisor, and environmentalists everywhere have lost a champion of the environmental movement with the passing of Gaylord Nelson. Nelson was a U.S. Senator, trailblazing conservationist, founder of Earth Day, and eminent member of Carrying Capacity Network's Board of Advisors. Senator Nelson died Sunday at his home in Kensington, Maryland. He was 89.

---

CCN is a group of activists working to promote and conserve what's right with America and to eliminate what's wrong with America. Most of America's main problems - from traffic, to classroom crowding, to pollution, depletion, welfare dependency, increasing taxes, and cultural fragmentation, have deep roots in our unsustainable population growth. Because of that, CCN focuses on stabilizing our population. We are even willing to face the awkward demographic fact that immigration is the cause of most of our recent growth (at current rates, immigration will cause about 90% of our growth as we double in the next 60 years or so).
CCN simply wants to conserve the best of America - before it's developed, overrun, consumed, and polluted by runaway population growth. It's not too late, and we hope that you will join us in this effort.
Note: CCN is anti-mass immigration but NOT anti-immigrant. At NETWORK , we understand that immigration is a sensitive issue. While we hope to encourage debate on this topic and challenge the status quo, it is important to note that our battle is being waged for the future of the United States of America-- for preservation of quality of life, respect for law, national security and a sustainable population size and level of resource use.
These goals do not threaten immigrants. Rather, established immigrants are quick to see that continuing, explosive growth in population size will recreate conditions in the United States that are similar to conditions in their countries of origin and from which they fled. No prejudice nor lack of compassion guides us. Rather, we desire a sustainable future for all. We push for the enactment of sensible policies and we demand enforcement of existing US law.
At NETWORK we work as much for the well being of our immigrant Americans as that of native-born citizens. We were the founding sponsor of the Diversity Coalition for an Immigration Moratorium in order to help achieve a sensible immigration policy. We encourage everyone who cares about the future of America to join us.
The CCN Editorial Policy:
While Carrying Capacity Network endeavors to make sure that all materials contained in our publications are accurate, CCN is not responsible for the reliability of information submitted for publication. CCN does not sanction or endorse any views, policies, or activities of groups or individuals, including members of CCN, except as may be explicitly indicated. CCN will assume that when information is submitted, permission is thereby granted to edit and provide context before dissemination. Due to the volume of submissions, CCN cannot guarantee that any particular item will be included or that it will be included in its entirety. CCN will, however, always endeavor to properly credit sources.
Contact CCN
info@carryingcapacity.org

Mailing Address:
Carrying Capacity Network, Inc.
P. O. Box 457
San Francisco, CA 94104-0457

Washington, DC, Address:
Carrying Capacity Network, Inc.
1629 K Street NW, Suite 300
Washington, DC 20006
.
Contact the webmaster at if you have questions or problems using the CCN site.
---
The content of this website--graphics, text and other elements--is ©2001 by Carrying Capacity Network, and may not be reprinted or retransmitted in whole or in part without the expressed written consent of the publisher.
Support CCN! Our efforts cost money, and only you can help. Start by making a secure donation today.
New ! Use FirstGov to contact your representatives in Congress, and track their records on issues vital to national sustainability:
Use FirstGov to search for current news on pertinent legislation:

National Board of Directors

David F. Durham
Michael J. Ferrara
Chris Kuhn
Robert Walters

National Board of Advisors

Virginia Abernethy
Nicolaas Bloembergen
William Catton, Jr.
Marisa Hsia Chang
Robert Costanza
Brock Evans
William Frey
Robert Kaufmann
Thomas E. Lovejoy
Orme Miller
Dan Morris
Frank L. Morris, Sr.
Nancy Sue Pearlman
Marcia Pimentel
William E. Rees
Claudine Schneider
Alan Tonelson
Walter Youngquist
In Memoriam
Albert A. Bartlett
Daniel Luten Charles L. Remington
Edgar Wayburn