---
---
CCN's 5 Point Program
Related Links
WHAT IS CARRYING CAPACITY?
A common fallacy is to equate existing and seemingly open or "unused" spaces with the kind of resources and ecologically productive land needed to support human life under modern conditions. In fact, the criterion for determining whether a region is overpopulated is not land area, but carrying capacity.
Carrying capacity refers to the number of individuals who can be supported in a given area within natural resource limits, and without degrading the natural social, cultural and economic environment for present and future generations. The carrying capacity for any given area is not fixed. It can be altered by improved technology, but mostly it is changed for the worse by pressures which accompany a population increase. As the environment is degraded, carrying capacity actually shrinks, leaving the environment no longer able to support even the number of people who could formerly have lived in the area on a sustainable basis. No population can live beyond the environment's carrying capacity for very long.
The average American's "ecological footprint" (the demands an individual endowed with average amounts of resources, ie, land, water, food, fiber, waste assimilation and disposal, etc. puts on the environment) is about 12 acres, an area far greater than that taken up by one's residence and place of school or work and other places where he or she is.
We must think in terms of "carrying capacity" not land area. The effects of unfettered population growth drastically reduce the carrying capacity in the United States.
CARRYING CAPACITY NETWORK
Real Solutions for America's Problems
---
Welcome to the CCN Home Page! CCN is a national non-profit advocacy group working to secure the sustainable future of the United States. Here you'll find articles by some of the best contemporary thinkers in the fields of population stabilization, national revitalization, economic sustainabilty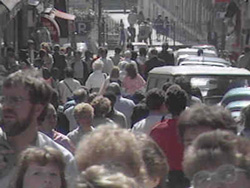 and resource conservation. Use our site to lobby your leaders in Congress, or join a live conversation in our chat room. Get the facts about the detrimental effects of mass-immigration, and why we need an immigration moratorium now more than ever. And don't forget to sign on to our National Alert subscription email service, an indispensable resource for Americans who care enough to act.
---
January 2016
"INVASION BY IMMIGRATION" — Help STOP it NOW!
CCN has a REAL SOLUTION
That Western Europe and the USA are suffering an Invasion by Mass Immigration is clear to all Honest Observers. In addition to those illegally crossing our borders, over 500,000 of those who entered on legal Visas in 2015 alone overstayed their Visas, according to the Dept. of Homeland Security.
This unauthorized incursion and illegal residence in our Physical Territory are not isolated phenomena. It is not just an Invasion of Physical Territory, but also an Invasion of our Culture and zones of Personal Safety. Consider those aspects of the invasion in addition to the demographic consequences of hundreds of thousands of Illegal Aliens entering our country each year. [Read More]
Support CCN! Our efforts cost money, and only you can help. Start by making a secure donation today.
New ! Use FirstGov to contact your representatives in Congress, and track their records on issues vital to national sustainability:
Use FirstGov to search for current news on pertinent legislation:

National Board of Directors

David F. Durham
Michael J. Ferrara
Chris Kuhn
Robert Walters

National Board of Advisors

Virginia Abernethy
Nicolaas Bloembergen
William Catton, Jr.
Marisa Hsia Chang
Robert Costanza
Brock Evans
William Frey
Robert Kaufmann
Thomas E. Lovejoy
Orme Miller
Dan Morris
Frank L. Morris, Sr.
Nancy Sue Pearlman
Marcia Pimentel
William E. Rees
Claudine Schneider
Alan Tonelson
Walter Youngquist
In Memoriam
Albert A. Bartlett
Daniel Luten Charles L. Remington
Edgar Wayburn